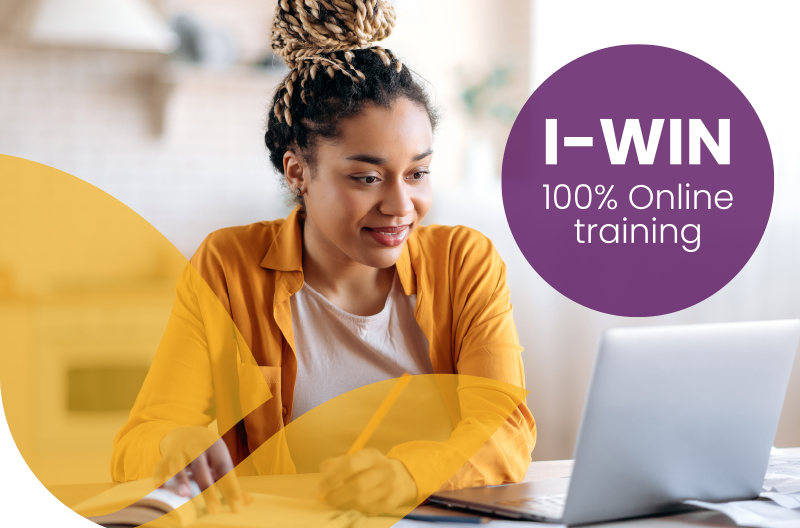 I-WIN
Online training to promote labour and social integration of young women migrants
Join WIN project and train yourself on the most demanded personal and professional skills in the labour market, promoting labour market insertion and social integration in the medium and long term.

Online training
For migrant women from 18 to 29 years old

Diploma
Certificate of achievement

Open registration
Limited places
What will you learn in this course?
You will get to know the working and social environment of your host country: geography, history, welfare system, how to learn the language, employment, housing...
You will improve your basic digital skills to meet the current demand of companies.
You will learn the basics about cybersecurity, to know the risks and minimize them, to know how to identify, prevent and act taking advantage of all the opportunities offered by technology.
Learning Methodology
Learn at your own pace and from wherever you want. With our online methodology you are the one who decides when and how to prepare. You will have access to the e-learning platform 24 hours a day, 7 days a week, and you will have the support and mentoring of a tutor who will be in constant contact with you to answer any questions and advise you during the job search process. At the end of the training, you will receive a diploma certifying that you have successfully completed the course.
Curriculum
Cultural Integration
General information about Latvia
Identification documents in Latvia
Rights, obligations and duties of persons residing in Latvia
State holidays
History of Latvia
Rights and obligations of an asylum seeker
Health care
Social security network
Social assistance system
Education
Learning Spanish
Employment and job search
Looking for an apartment: the housing market
Non-discrimination and equal opportunity
Religion
Banks and currency exchange
Leisure and free time
Climate and weather in Latvia
Recycling
Traffic regulations in Latvia
Telephone, Post and Internet
Where to call in case of emergency
Digital skills
What are digital skills?
What is the importance of digital skills?
Digital tools
Hypertextuality and muiltimodality
Reflective thinking
Intervening responsibly, safety and ethics in digital environments
Conclusions
Cybersecurity
Introduction to cybersecurity
Security: what techniques can hackers use?
Phishing
Types of phishing
Interacting with the digital environment securely
Teleworking
Summary - Cybersecurity Decalogue
Self-test
---